The Ultimate Guide to the Calgary Fall Home Show
It's Showtime! The
Calgary Fall Home Show
opens this afternoon at 4:00pm until Sunday, September 22 at 6:00pm. With so much to see and do, we want to make sure you're all ready to hit the show floor. Take a look at our ultimate guide to the show, with insider tips perfect for Calgarians looking for practical advice and inspiration for any and every home project this fall.
Before you head down to the BMO Centre at Stampede Park (20 Roundup Way SE, Calgary, AB) make sure to have your ticket ready! Buy your tickets
here
before you leave the house, and you can save $2. That means you can save for all those fall home projects you've been dreaming of!
Also, did you know we have a few very special dates where we are offering complimentary admission? On Thursday, September 19 we are celebrating all students actively studying trades or any trade professionals working in the home building and renovating industries. The following day on Friday, September 20 is Hero Day, where we're offering a tribute to all the active or retired military and first responders. On the final day of the show Sunday, September 22 is Teacher Appreciation Day where we are honouring all teachers. Are you working in the trades, are you a hero or a teacher? Bring your valid ID down to the show and get FREE admission!
If you are driving to the BMO Centre and plan to shop at the show, parking at Stampede Park is $15.00 per car, or you can park at any auxiliary lot surrounding Stampede Park. You can also take a look at the
Calgary Stampede Visitor Parking Map
to get an idea of where to park, or take a look at our
FAQ page
.
Once you arrive at the Show, our advice is to take a look at the line-up for the HGTV CanadaMain Stage presented by the Calgary Herald designed by Neelam Interiors. With Canada's favourite handyman Bryan Baeumler hitting the stage you'll want to make sure you get your seat early! You can also find all the top local home and design experts sharing their advice to help you revamp your space this season.
Get a crash course in creating the ultimate pad at presentations from KonMari expert Helen Youn, Kathy Yuen, principal of Phase One Design, designer Jamie Banfield of Jamie Banfield Design and Dayle Sheehan of Dayle Sheehan Interior Design.
Insider tip: Be sure to stick around after each presentation for your chance to take a picture and chat with the presenters at their selfie sessions directly after their presentations.
When: September 19–22, 2019, check out the HGTV Canada Main Stage schedule available here.
Bryan Baeumler, HGTV Canada Celebrity Contractor - Presented by Pete the Plumber
Friday, September 20 at 6:00 p.m.
Saturday, September 21 at 1:00 p.m.
Helen Youn, Professional Organizer and Certified KonMari Consultant
Friday, September 20 at 5:00 p.m.
Saturday, September 21 at 6:00 p.m.
Kathy Yuen, President of Phase One Design
Friday, September 20 at 4:00 p.m.
Saturday, September 21 at 4:00 p.m.
Jamie Banfield, Principal Designer at Jamie Banfield Design
Friday, September 20 at 3:00 p.m.
Saturday, September 21 at 12:00p.m.
Dayle Sheehan, Lead Designer & Owner of Dayle Sheehan Interior Design
Saturday, September 21 at 3:00 p.m.
Sunday, September 22 at 12:00 p.m.
Take in the home inspiration:
After you check out the HGTV Canada Main Stage, we suggest you step into the Small Space – Maximum Style feature, designed by WW Design Studio. After just one look, you'll be one step closer to living large, no matter the size of your home. Explore this beautifully designed 800 square foot space, which will show you that size doesn't matter, and small space living doesn't need to cramp your style. You'll also find products from The Apothecary in Inglewood that promote the zero-waste lifestyle you've been working towards. After you are done browsing through the eco-friendly solutions in this feature, head over to the TELUS space and explore their brand new Superiority Hubs - they're a family-friendly experience as much as they are a comprehensive display of TELUS' ever-evolving product suite.
Where: Small Space – Maximum Style, Booth #135 + TELUS, booth #731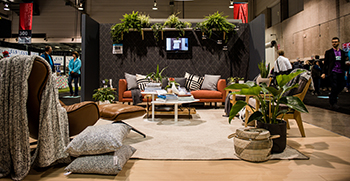 Get in on the local love:
Reignite your love for all things local as you experience hundreds of local brands and businesses. Say hello to the exhibitors as you find great deals, and chat with the experts. You're sure to walk away with new ideas, inspiration and most likely meet someone who can help with your home renovation needs, who is close to home.
Once you've met with some of your favourite exhibitors, take a walk through Avenue Magazine's Made in Alberta Awards Showcase. In this new show feature, see the finalists in Avenue's first-ever Made in Alberta Awards furnishings and home décor category. All the items showcased are made in the province, by Albertans. You'll be able to see up-and-coming artisan makers and some of the top locally made products for your home.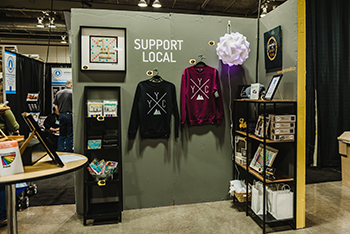 There's also room for you to get creative at the show with Outside the Shape. Shop from their beautifully curated boutique space and take in all of the locally crafted home goods, beauty products and more. Who doesn't love local?
Where: Avenue's Made in Alberta Awards Showcase, booth #131 + Outside the Shape, booth #839
Come forth and discover the Kim Crawford Experience presented by Kim Crawford Wines. In this gorgeous curated space designed by Canadian designer Amanda Aerin (you might remember her from last years show), experience the flavour, texture, aroma, and essence of each wine, brought to life by design. And of course grab a sample of wine while you explore this truly sensory experience.
By this point you'll probably be ready for a bite to eat. Stop by our Food Truck Eatery and you'll be sure to find your favourite Calgary eats on wheels, like Wilk's Booth, Shogun Teppanyaki, Savino Pizzeria and Happy Fish!
Where: Kim Crawford Experience, located near the Main Stage + Food Truck Eatery, at the South entrance of the BMO Centre
Share your special moments:
Did you grab a selfie with Bryan Baeumler? Or capture your favourite feature? We want to see it! Share your favourite moments photos from the Show on social media using #CFHS19 and tag @yychomeshows on
Twitter
and
Instagram
. This is also where you'll want to keep an eye out for everything happening at the show. We'll see you again in January for the
Calgary Renovation Show
!
Sep 19, 2019, 16:14 PM