Sponsor Spotlight: RenovationFind
Sep 8, 2023, 20:21 PM
We're excited to have RenovationFind as a sponsor of the 2023 Calgary Fall Home Show. Before you visit this innovative company at the BMO Centre from September 29-October 1, please enjoy our brief interview with the RenovationFind team below.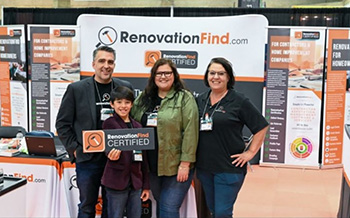 Q. How does your service work?
RenovationFind.com is a free online directory of rigorously screened and certified renovation companies, home improvement contractors, and tradespeople. RenovationFind Certified companies must provide proof of insurance coverage, valid business licenses, and WCB. We hire a third-party organization to run financial and legal background checks and continually monitor the companies to ensure they keep up with our high standards.
We also offer digital marketing services to the companies on our website. For example, we provide social media marketing, blog content, email marketing, search engine optimization and other digital marketing services. Plus, the RenovationFind Certification allows them to build a brand of trust with customers, which goes a long way in this industry.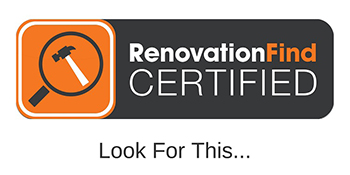 Q. What can we expect from you at the Calgary Fall Home Show?
Come to our booth and share your ideas and dreams for your home improvement projects! When you visit our booth and sign up for a RenovationFind Membership, we'll put your name into a draw with a chance to win $1,000. In addition to that, your membership gives you access to exclusive promotions and discounts offered by our partner companies in Calgary.
You can also "Post a Project" at the booth. We'll have online forms you can fill out with your project details. Then, we connect you with three RenovationFind Certified companies specializing in the work you need. For example, if you need to replace your eavestroughs before winter arrives, we'll send your project details to the best eavestrough companies in Calgary. These companies will contact you for more details to provide a quote for the job.
Q. What advice can you offer homeowners?
Remember to take the time to research any company you hire to work in your home! That means verifying they have a legitimate provincial business license, liability insurance, and coverage for the workers in your home.
In addition, be careful not to rely too heavily on online reviews. In this industry, reviews can be misleading or even fake. Instead, do the research, ask for references, and get quotes from more than one contractor. That will give you the best idea of what they offer and which company best fits you and your project.
Q. What inspires your services?
We've worked in the home renovation industry for several years. We've heard terrible stories about homeowners getting ripped off by bad contractors. People have had work left unfinished, done poorly, or not done at all with the deposit gone forever. We wanted to change that and help homeowners avoid it by connecting them with trustworthy, ethical, high-quality contractors.
We hope that using RenovationFind to find certified companies will reduce stress for homeowners. In turn, it can help good contractors succeed and improve the entire industry's reputation.
Q. Any success stories you'd like to share?
We conduct surveys and collect data and feedback from homeowners. Recent data shows that homeowners prioritize trustworthiness and quality, often over price, when choosing a contractor. Thankfully, we've received a lot of positive feedback that homeowners are happy with the companies they've hired from RenovationFind.com. Whether they were looking for fence contractors, landscape designers, roofers, insulation specialists, custom cabinet makers, or the best basement development contractors in Calgary, they found reliable companies in our directory.
For the companies on the website, we have seen them experience growth in their online presence. Our digital marketing services have helped increase web traffic, generated leads, and helped them create a brand of trust with current and potential customers.

Q. What's your favourite part of the Calgary Fall Home Show?
My favourite part of the Calgary Fall Home Show is talking with homeowners and learning about their projects and home improvement experiences. Making successful connections between homeowners and honest, high-quality companies feels rewarding. In return, those companies benefit from an increased online presence and other marketing opportunities.
Q. What can people expect when they work with you?
Homeowners can expect to find a curated, pre-screened and RenovationFind Certified listing of home improvement companies, contractors and trades for your projects. Our directory offers many categories, including drywall contractors, exterior renovation experts, landscape contractors, HVAC companies, kitchen renovation companies, the best custom closet companies in Calgary, and many others.
If you sign up for a RenovationFind Membership online or at the home show, you'll receive exclusive promotions and discounts from our Calgary partner companies.
And if you're a renovation or home services company, we can help get your business in front of your target audience. As mentioned, our digital marketing services can help boost web traffic, generate leads, and improve your online presence overall. We invite you to work with us and build a brand of trust with your customers.